International Exchange Division
<Foreign Student Exchange Plaza>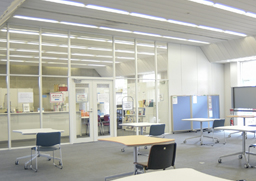 This university has a place, the Foreign Students Exchange Plaza, where foreign students can exchange information with each other and deepen their relationships. The staff, who are proficient in English, Chinese, and Korean, are available at the Plaza for the purpose of supporting foreign students. Every day, many foreign students gather there and have a pleasant chat. Of course, Japanese students can also join them, widening the circle of friendship even larger.

The Plaza organizes various events, changing from season to season. For example, we plan one–day trips to Kyoto in the spring, to Kobe in the summer, and to Nara in the fall. The students enjoy Japanese culture, eating delicious foods, shopping for souvenirs, and sometimes taking a great number of pictures!

Unfortunately, various difficulties sometimes happen while living in a different country. The Plaza is ready to give advice not only about matters pertaining to living in a foreign country such as accommodations or part-time jobs, but also items of concern to every university student, such as registration for classes and study guidance. The staff of the Plaza make a considerable effort so that every foreign student can lead a comfortable life here at Soai University. We give foreign students a hearty welcome and an adequate support system.

When you enter Soai University, please join the others at this Plaza. We welcome Japanese students as well as foreign students. Please feel free to drop in on us!